the love project ...
this week's assignment -
celebrating age
.
yvette, the project's creator, has included a main assignment and an option simply for a quick version of the week 9 assignment -
Assignment 9: Write a blog post or comment about your age and why it is the perfect age to be. Variations might be what you think the perfect age is and why. You can also talk about your birthday, why it's special, and how you are going to celebrate. Or if you really just want a very easy Love Project Assignment, then help me celebrate MY age by leaving me a Happy Birthday comment! Today I'm 51!

day after yvette's birthday - TODAY, 02/27 ...
it's a GREAT DAY today -
just-a-smidge-over 1-year anniversary
of yvette's book
over here
and
on amazon
.
on internet radio
- TODAY, 02/27
...
and CONGRATS to yvette and her book (
The Laptop Dancer Diaries: A Mostly True Story About Finding Love Again
) and her blog (
Single Again Online Diary
) for being featured on Boston's
the dating marketplace with nic & neely
,
unregularradio.com
internet radio -
their show this evening at 8 pm (EST)
and therefore 5 pm (PST) for west coast folks.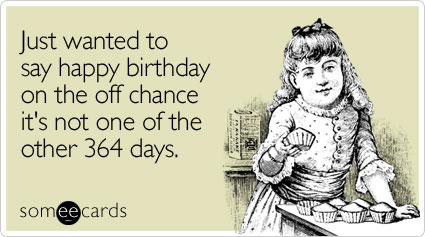 happy happy joy joy birthday, yvette!
...
yesterday (feb 26) was yvette's prime number (51) birthday, so as is the case for any birthday greeting ...
and of course,
the
happy happy joy joy

celebratory chant
is from
mr. stinky wizzleteats
of
ren & stimpy
fame or
infamy
(?) (
over here
)